Superior Service Management for Every team
Jira Service Desk is the most collaborative service management solution on the market that IT and service teams actually like to use.
Built on Atlassian's Jira, the market leader in helping teams get work done, Jira Service Desk delivers an effortless service experience, adapts to your needs, and promises set up time and pricing at a fraction of what competitors offer. Redefine what IT means to your business!
Isos Technology and our team of Atlassian Platinum Solution Partners are here to help you transform your service desk and issue tracking processes into a cohesive, streamlined experience.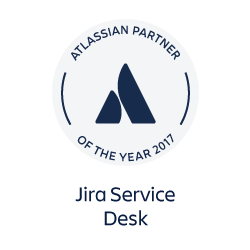 Help Desk
Utilize JSD's automation, queues, SLA's, and approval workflows so your IT team can work at peak productivity.
ITSM/ITIL
JSD is ITIL certified and supports service requests, incident management, problem management, and change management.
Increased visibility and collaboration amongst teams.
Business Teams
Now all teams–Human Resources, Legal, Sales, and Marketing included–can utilize JSD to field requests, streamline processes and share information.
What Does Jira Service Desk Offer Exactly?
A uniquely collaborative service management solution built on the Atlassian Jira workflow engine.
An agile platform and knowledge base that provides one-of-a-kind efficiency, scalability, and flexibility.
A powerfully simple user experience for your team and your customers.
How Will Isos Help Your Organization Leverage Jira Service Desk?
Completely customized service desks for every team's specific needs
Streamlined migration from legacy platforms
Full integration with the Atlassian tools and other enterprise systems
Automation of repetitive tasks, issue queues, and rules applications
Comprehensive go-live, training and support plans
How Will Your Organization Benefit from Jira Service Desk?
User-friendly ITSM application
Reduced administrative time and cost
Faster issue resolution and improved service
What Our Customers Are Saying

"Isos Technology was able to take the subjectiveness of priority out of our typical help desk issues. They helped us define specific requirements to determine impact and urgency for rules handling. As a result, they were able to automate our queues to determine priority, providing consistency for every triaged issue."
– Director of Service Delivery, OC Tanner

"Isos Technology migrated the DoD's help desk to Jira Service Desk on a very tight timeline and within their extremely stringent security requirements. Now OMNITEC and the DoD benefit from a help desk solution that lets the organization run more efficiently while delivering responsive, high-touch service for all end users."
– Director of IT Services, Government Contractor
With Jira Service Desk You Get…
A consumer-grade experience with a central customer portal scaling to unify and satisfy IT, Finance, HR, Legal, Marketing, etc.
The ability to solve issues quicker and faster with automation.
Customizable SLAs and advanced SLA metrics.
Easy visibility into team activities that allows for optimal collaboration and accountability.
Seamless integration because JSD allows you keep all your Jira customizations.
Seamless integration with other Atlassian products.
Integrated knowledge management providing access to valuable knowledge with the JSD integration with Confluence.