Every Organization Wants to Be Agile
Your organization wants to get to market faster, innovate more, and maintain market share. To accomplish this, you're adopting lean, flexible, and efficient new ways of working, but scaling agile practices across an entire organization is complex, time-consuming, and challenging. You need to ensure that execution aligns with strategy, teams are communicating and collaborating efficiently, and you have visibility into the value of work being done.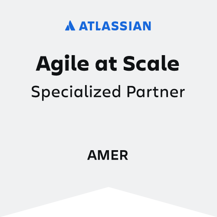 We Can Help You Scale
If you've outgrown your processes or tools, we can take your organization to the next level of business agility. As an Atlassian Platinum Solution Partner with an Agile at Scale Specialization, we offer comprehensive agile services to help organizations increase customer satisfaction, improve operations, contain costs, and enhance their ability to deliver.
Agile Frameworks
There are several prescriptive frameworks that will guide you in your quest to scale Agile:
Disciplined Agile Delivery (DAD)
---
DAD promotes a hybrid Agile approach to IT solution delivery that focuses on people and learning, first and foremost. This methodology combines aspects of Agile Modeling (AM), Extreme Programming (XP), SAFe, Lean product development, Kanban, and more. DAD is goal-driven, scalable, enterprise aware, and has a risk-value lifecycle.
Large Scale Scrum (LeSS)
---
This lightweight Agile framework scales Scrum to multiple teams. It differs from other scaling frameworks in that it is minimalistic and promotes empiricism on a large scale. This framework allows teams to tailor their implementations based on experiences and context rather than rules, processes or artifacts. LeSS is customer-centric and promotes direct interaction with the customer when creating roadmaps and identifying priorities and goals.
Whatever framework or methodology you choose, Isos is here to help you every step of the way. We'll walk you through scaling Agile, and best of all, you won't have to leave behind the Atlassian tools you love, like Jira and Confluence. Whatever framework or process you choose for scaling Agile, rest assured that we've done it before, and we'll do it again for you using the Atlassian toolset.
Atlassian Solutions for Agile at Scale
Advanced Roadmaps
---
An Agile portfolio management tool built specifically for Jira, Advanced Roadmaps (formerly Portfolio) is highly effective for small teams. With this tool, you can plan and forecast dates, optimize schedules, forecast in real time, and manage availabilities, allowing you to meet deadlines and deliver on time.

---
The newest member of the Atlassian family, Jira Align scales Agile at an enterprise level. Jira Align increases visibility amongst teams and accelerates productivity, yielding increased ROI. Formerly Agile Craft, this product bridges the complexity gap and delivers on its promise of the lean enterprise to large organizations. Jira Align is a cloud solution that comes in three different varieties: Essential, Professional and Enterprise. You can hand pick your product based on your organization's Agile needs.

---
There are several apps available on the Atlassian Marketplace, like Structure and Big Picture, that can help companies of all shapes and sizes in their quest to scale Agile. Isos Technology is a Marketplace expert and can assist your team in determining which apps are best for your organization's specific requirements.
Isos Offers Comprehensive Agile Services
Agile Transformations
---
Let us guide you through the process of transitioning your entire organization into a nimble, reactive company based on agile principles.
Whole Enterprise Transformation
SAFe Implementations
DevOps Transformations
Lean Portfolio Management
Small-Scale Agile Team Launch (Waterfall to Agile)
Agile in Hardware and Manufacturing
Pre- and Post-Transformation Health Check
Organizational Change Management
Agile Coaching
---
Let us help train your teams on the agile methodology and oversee the development of agile teams to ensure effective outcomes for your organization.
Enterprise Agility Consulting/Coaching
Business Agility Coaching
DevOps and Technical Coaching
Portfolio Coaching
Program Coaching
Agile Team Coaching
Agile Training and Certification
---
Ensure your teams have the knowledge and qualifications they need to effectively implement agile practices.
SAFe Certifications: Scrum Master, Lean Portfolio Management
Agile Workshops
Agile Role Training
Agile Basics
Scaled Agile Software Implementations
---
Let us help you choose the best software configuration to support your new ways of working.
Jira Align
Agile Hive
Big Picture
Plan View
Aha
Asana
Craft.io


Maturity Assessments
---
Gain insight into how your organization is progressing in its agile journey.
Business Agility Assessments
Portfolio Agility Assessments
Program Agility Assessments
Team Agility Assessments
What Clients Say About Us

Isos is a one-stop-shop for us. They're helping us maximize our Atlassian investment across the organization so we can improve efficiency and scalability like never before.
Ken H.
Able Engineering
Clients Who Trust Isos Technology
Interested? Let's Discuss Agile for Your Organization!