Industry: Consumer Health Care & Pharmaceuticals
Solution: 21 CFR Part 11 / Part 800 Compliance Automation
Operations: Top 10 Global Consumer Health Company
Integrations: JIRA, JIRA Agile, Confluence, Bamboo & Stash
The Challenge
A global consumer health care company developed an innovative software application to help consumers track medication doses. Given the application's applicability to the consumer's medication usage, it is classified by the FDA as a medical device, and therefore, subject to all of the same regulatory and compliance requirements as any other medical device.
But meeting compliance and reporting requirements for the application was a monumental and completely manual effort for the development team, consisting of a process that required hundreds of pages of documentation, and a lengthy final report that is submitted to the FDA. The process was time-consuming and manually enforced, making it difficult to identify issues, errors or missed steps before the final compliance report was generated. Any issues detected then required additional manual intervention to correct—not only causing delays in the release cycles, but delaying the FDA report submission, and ultimately, opening the company up to significant compliance and audit risks.
The Solution
The Isos Technology team worked closely with the company's IT staff to create an innovative way to automate the entire development, quality assurance, release management and change control process required to meet FDA compliance with 21 CFR Part 11 (requirements regarding the regulation of electronic records and esignatures) and the CFR Part 800 series (requirements for medical devices).
After mapping out the detailed workflows, document locking, e-signature and exportable artifact steps, Isos Technology developed a rich set of process requirements within the Atlassian Confluence collaboration product.
Once documented, requirements in Confluence were locked down by tasks in associated JIRA workflows using two Isos Technology-developed JIRA and Confluence plugins. The plugins allow for JIRA-orchestrated document control using Confluence, thus authoring and verifying the documentation at each step required throughout the entire process.
The Results
JIRA and Confluence-based FDA compliance system that automates every aspect of documentation and reporting for the release management and change control process.
Hundreds of pages of necessary documentation automatically generated and moved through JIRA workflows.
JIRA-orchestrated document control using Confluence to author and verify documentation at each step.
Check and balance system designed to ensure necessary e-signatures are captured at each step.
Alerts and triggers to streamline the process and keep it flowing seamlessly.
Automatically generated compliance report that is ready for submission to internal audit, and ultimately the FDA.
Documentation and reporting adherence to help the company meet FDA CFR Part 11 and Part 800 series regulations.
FDA Compliance Process Benefits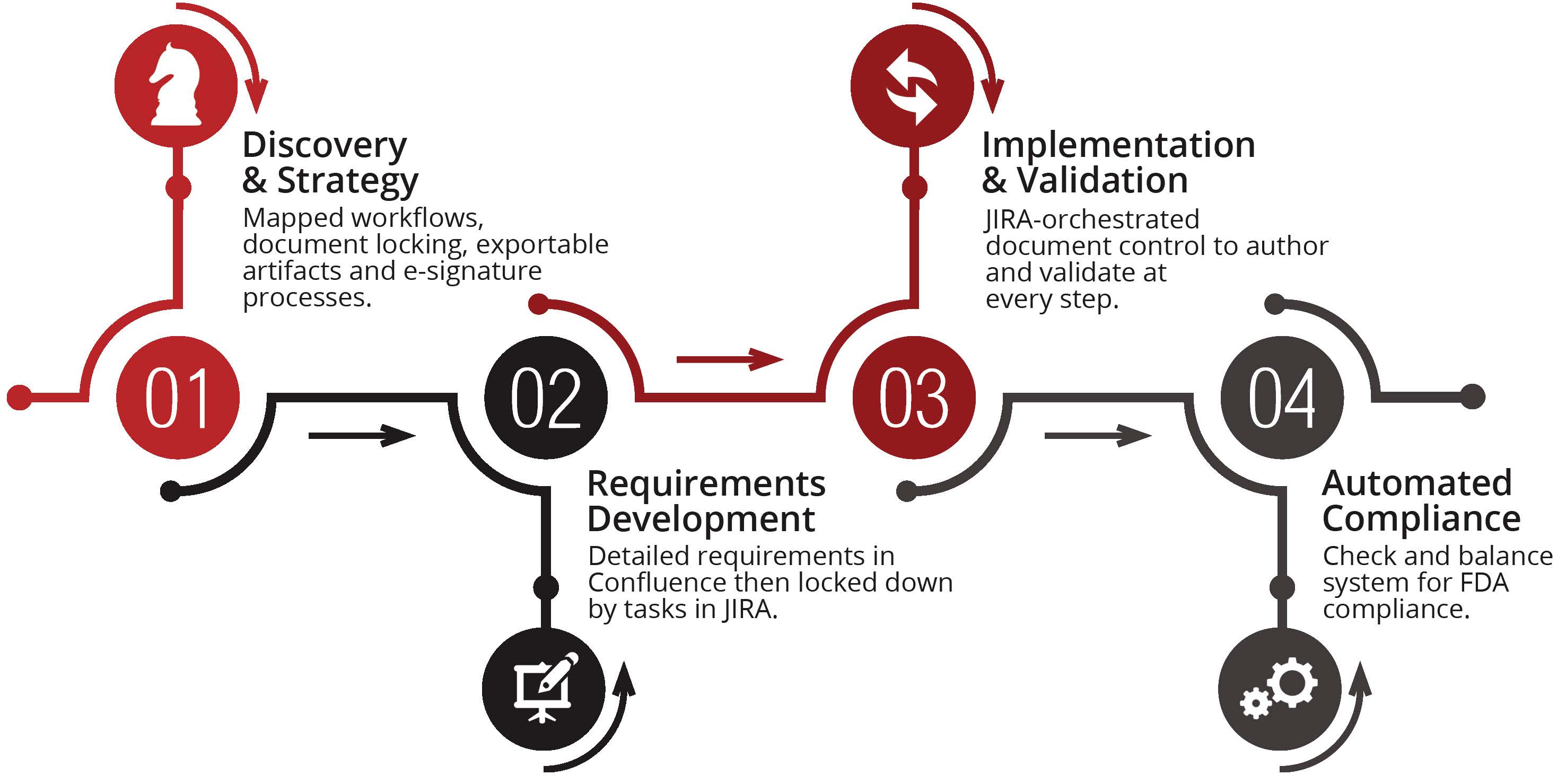 Streamlined & Simplified Compliance Reporting
The company's IT team is no longer bogged down in a timeconsuming, manual documentation and reporting process to ensure the application meets FDA requirements. That means they spend far less time managing compliance and far more time enhancing the application to improve features and functions, and to improve the end user experience for consumers.
Improved Documentation & Reporting Accuracy
Now, a fully-automated compliance process with JIRA and Confluence shepherding every step helps remove manual errors and missed steps. Not only does that improve documentation and report accuracy, it reduces the amount of rework required and prevents delays in application releases. The company has confidence that the compliance process is completed accurately and audit risk is significantly reduced.
Reduced Compliance Administration Time & Cost
What used to take hundreds of hours to prepare the compliance documentation and reporting is now reduced to a fraction of the time and resourcing costs.
The Technologies
Atlassian's JIRA, JIRA Agile, Confluence, Bamboo & Stash
GIT Essentials
Isos Technology proprietary JIRA & Confluence plugins
Tool customization and workflow optimization
Expert consulting, training and support
"We were using manual tools for release management and compliance reporting, so the job was time-consuming and very difficult to track. That meant regulatory audits and big nightmares. The Atlassian-based custom solution not only optimizes workflows and fully integrates the entire development lifecycle, it also automates e-Signature sign-offs, providing complete and accurate release documentation."
– Senior Compliance Director, Consumer Health Care
Check Out More Success Stories From Isos Technology: