Cloud or Data Center—What's Best for You?
Organizations across the globe are adopting a Cloud First strategy, but how do they know if Atlassian Cloud is the right solution for them? Many companies grapple with the best hosting solution for their Atlassian environment. Should your business adopt Cloud, or would it be preferable to maintain an on-premise hosting solution like Data Center? Both options have benefits. You'll want to identify which solution best fits your team's needs and technical requirements. But where do you begin? And how can you know that what looks good "on paper" will ultimately work best for your development and business processes?
Know Before You Go! Read our whitepaper on Atlassian Cloud Readiness or Take our Quiz to Find Your Atlassian Cloud Readiness Level!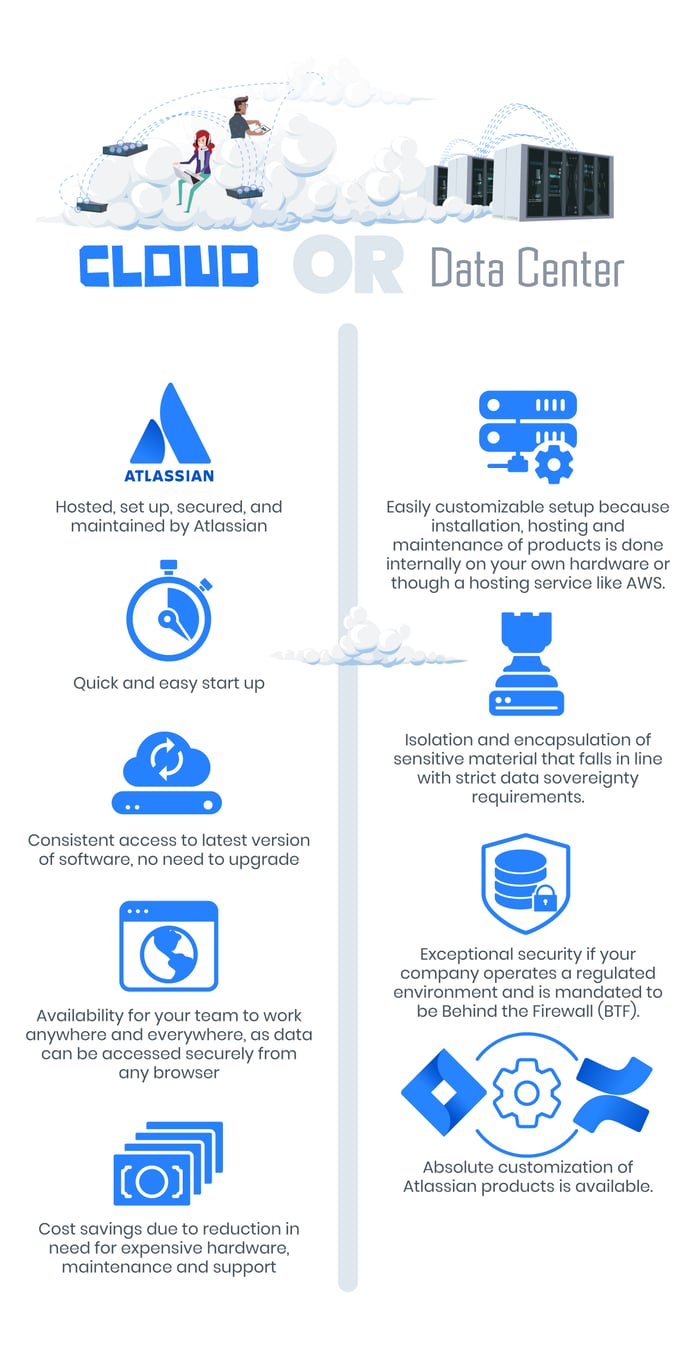 Trust Isos Technology
to Pave the Way Towards Cloud Adoption Success
Isos Technology and our team of experts will help you identify which hosting option best addresses the needs of your team and organization. There is a lot of uncertainty around whether or not Cloud is the right solution for you. Once you've determined that Cloud is right for you, we will guide you through the adoption process. Trust Isos to be your Cloud Adoption Partner every step of the way!
We'll accompany you on your journey to Cloud in a five-step process:
1. Cloud-Readiness Assessment
---
We'll do a deep dive into your organization's processes, strategies and goals to determine if Cloud adoption is the right option for your organization.
2. Cloud Migration Roadmap
---
If it's determined that Cloud is the best solution for you, we'll create a migration plan customized specifically for your business.
3. Migration Time
---
The migration will proceed at this point, and we'll conduct training for your team on Cloud best practices.
4. Time to Fly
---
Once your Cloud is completely set up, our team will work alongside you to increase user adoption, secure visibility, and ensure compliance is in check.
Atlassian as a Service
---
Isos will help your organization achieve freedom and autonomy via our managed services offering, license management, training, and more.
Clients Who Trust Isos Technology
Interested? Let Us Tell You More!